How do you start your day?
I am sure your answer will be by checking Facebook or Twitter or other social media site. Right? No need to wonder that how do I know because Cisco Connected World Technology Report says that almost 90% smart phone users check their phones before brushing their teeth or before having a cup of coffee. Even I do the same…!!
I downloaded an android app named, Badam Satti from CDN App Center. It is a card game app and I found that in this app Facebook and Twitter, both are integrated. Both are the strong social media platform. You can share your score with friends through Facebook. The point is that the strong social media platforms are also integrated in the normal apps. It shows that how much social media platforms are popular and demanding.
If we check most visited site then, Facebook has overcome the world famous search engine Google. Apart from Facebook; Twitter, You Tube and Daily Motion are also very popular and most visiting social media sites. Although social media sites are in vogue from starting. But, smart phone revolution has boost up the popularity of social media sites and in present every single person in the world is using at least one social media platform whether it is a website or an app. Now the situation is people don't visit sites because they have its alternate i.e. social media app. Almost all smart phone users use social media mobile apps in their phone. Social media apps have boosted the use of social networking sites.
Have a look the statistics of most downloaded app categories; then it shows that in 2011-2012, 60% social media and messaging apps were downloaded. On the other hand, the figure is changed drastically in 2012-2013. In 2012-13, 201% social media and messaging apps are downloaded. Hence, it is clear that social media apps are on the top from starting of app revolution.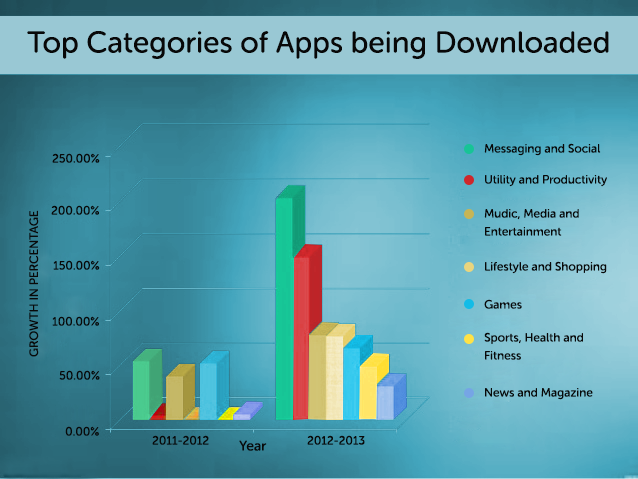 In terms of business social media apps is the best medium to engage the people and to grow the business, whether it is Facebook App or Twitter app or You Tube app . While, in general, it is easy to connect to other people through social media apps.
It is clear that social media apps' future is bright and social media will generate the revenue day by day.